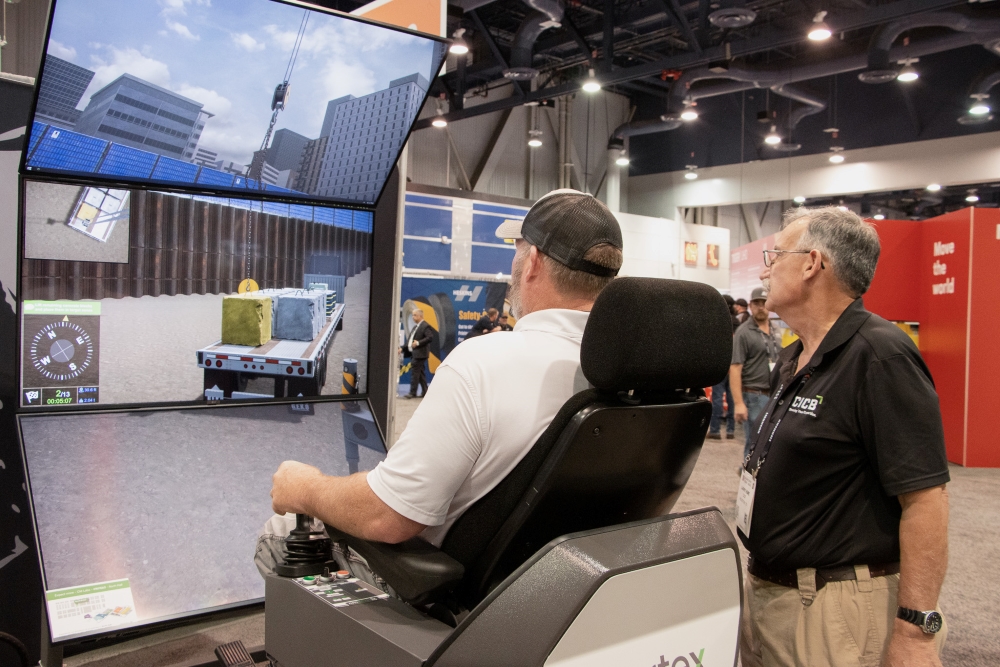 LAS VEGAS, March 28, 2023 /PRNewswire/ -- CONEXPO-CON/AGG is North America's largest construction trade show representing asphalt, aggregates, concrete, earthmoving, lifting, mining, utilities, and more. In 2020, it was cut short by the COVID pandemic. This year, they knocked it out of the park with a tremendous attendance of professionals from across the industry.
During the show, which ran from March 14th through the 18th, CICB met with over 1000 attendees to discuss options available to improve safe lifting operations. Topics included personnel qualification assessments, the CCO certification process, compliance evaluations to assess operation efficiency and techniques, the value of classroom and hands-on training to properly educate lifting personnel, effective communications in lifting operations, the use of simulators for basic crane operator training, etc.
The company's booth featured a mobile crane operator simulator (provided by CM Labs), a rigging inspector activity, an interactive mobile crane model, and more.
On Thursday, March 16th, CICB hosted a breakfast and networking reception. The breakfast featured a presentation from Michael Rubin, a highly experienced OSHA Defense Attorney. Michael's presentation provided a step-by-step approach to being prepared for an OSHA audit. In case you missed it, contact us and we will send you some details.
Larry Kime, CICB's Technical Advisor and Senior Instructor, recalled, "CONEXPO was a great opportunity to converse with our clients and others to review their needs and concerns and to offer ideas and solutions to improved safety and operations."
About CICB
Headquartered in Houston, Texas, CICB is a veteran-owned company that provides customized solutions for lifting operations across the world through training, inspections, and support services. CICB is known as the Subject Matter Expert Team that the crane and lifting industry engages as an essential partner for safe and effective practices in planning, supervising, executing, and evaluating crane and lifting operations.
CICB has built lifelong partnerships with thousands of companies for over half a century wherever people interact with lifting equipment, continuously reducing accidents, injuries, deaths, equipment failures, and lost production globally. Their obsessive pursuit to Elevate Your Expertise is what has made CICB the oldest, most experienced, and most trusted company in the industry. For additional information, please visit cicb.com.